Famous Americans
Pocohontas ... Matoaka
Lady Rebecca Rolfe
1585-1612
Summary
...
Video
...
Color Page
...
Pictures
...
Netlinks
... Timeline ...
Biography
... Projects
...
Pocahontas Projects
Matoaca was the private name of a Powhatan Indian girl.
Matoaca means "Little White Feather".
Her father was Chief Powhatan, the chief of many chiefs.
Chief Powhatan liked her spunk and called her Pocahontas.
Pocahontas met the first Jamestown colonists.
Pocohontas brought food to the colonists when they were hungry.
Pocahontas told the colonists when her father was angry.
Pocahontas was known for her kindness and courage.
Pocahontas was baptised and changed her name to Rebecca<
Rebecca married John Rolfe.
Rebecca had a son named Thomas.
Rebecca went to visit England.
She got sick and died trying to get home.
---
The Life of Pocahontas Flash
Turn on your speakers!--
**- Click on [Reload] in your browser to re-start.-**
If you don't see the screen above, you may need to download the FREE Macromedia Flash Player
---
Do You Know About Pocahontas?
If you don't see the quiz, you may need to download the FREE Macromedia Flash Player
---
Pocahontas Print Quiz
1. Which picture is Pocahontas?
A.
B.
C.
2. What did Pocahontas live in at her village?
A.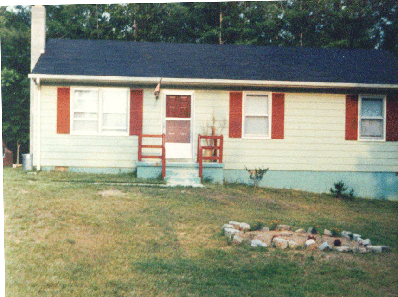 B.
C.
images/Poca-Tipi.gif" alt="tipi" width="69" height="100">
3. How did the colonists come to Virginia?
A.
B.
C.
4. Which is a picture of the soldiers Pocahontas met at Jamestown?
A.
B.
C.
5. What did Pocahontas take to the colonists in Jamestown?
A.
B.
C.
6. Pocahontas was known for her
A. education
B. courage and kindness
C. beauty and savagery
7. Pocahontas was
A. an Indian brave.
B. a Powhatan girl.
C. the first child born in America.
8. Pocahontas had
A. A hundred brothers and sisters.
B. one older brother named Kocoum.
C. no brothers or sisters.
9. In the village, Pocahontas lived in a
A. trailer.
B. longhouse.
C. tent.
10. Pocahontas helped the colonists by
A. teaching them how to fish.
B. teaching them to grow pumpkins.
C. taking food to them in the winter.
11. After she was baptized, Pocahontas was called
A. Matoaka
B. Little Snow Feather
C. Rebecca
12. Pocahontas married
A. Alexander Whitaker
B. John Rolfe
C. John Smith
13. When Pocahontas went to England,
A. She married the king.
B. She was treated like a savage and killed.
C. She was treated like royalty and made many friends.
14. How did Pocahontas die?
A. She was beheaded by the queen.
B. She fell off the ship and drowned.
C. She died of a European disease.
15. After Pocahontas died,
A. there was peace between the colonists and the Indians.
B. the colonists and Powhatans fought each other.
C. the colonists left Virginia.
---
---
Pocahontas Bibliography
Net Links
Disney: Pocahontas Coloring Pages from Disney Movie
Disney: Pocahontas - Movie Trailer
Wikipedia: Pocahontas
Incwell Biographies: Pocahontas by Rachel Sahlman
Jamestown Rediscovery: Pocahontas Story
Pocahontas Archives: digitized information
Americas Library: Pocahontas
University of Virginia: Virtual Jamestown - includes "Arrival of the Englishmen in Virginia"," Indian Woman and Young Girl", "Indian Woman and Baby of Pomeiooc", "John Smith Upon Capture", and "Indian Food".
University of Virginia: Pocahontas - Icon at the Crossroad of Race and Gender in America
includes images: "The Baptism of Pocahontas" and "Pocahontas Saving John Smith". "The Abduction of Pocahontas", "The Marriage of Pocahontas", "John Rolfe and Pocahontas,"and "The Death of Pocahontas,"
Colonial Williamsburg: The Portrait of Pocahontas - Painted in London.
David Morenus: The Real Story of Pocahontas
Jamestown Settlement: In The Words of Pocahontas
The Sedgforth Portrait of Pocahontas with Thomas
Powhatan Nation: The Pocahontas Myth
Class in Fayette, IN: John Smith's Letter to Queen Anne regarding Pocahontas
America's Library: Pocahontas
Gloucester County, VA: Pocahontas, American Indian Princess
Paula Geise: Native American Opinions on the Pocahontas Movie
St. Georges Church, Gravesend, England: Princess Pocahontas
American Women: Pocahontas, A Native American Princess
Williamsburg Private Tours: Pocahontas Pictures, documents, vocabulary
Williamsburg Private Tours: Captain John Smith - extensive text documents
---
Books
My Own Books: To Jamestown with PocahontasPersonalized Story
Pocahontas, Powhatan, Opechacanough - Three Indian lives changed by Jamestown, by Helen Roundtree.
Pocahontas, and the Powhatan Dilemma, by Camilla Townsend.
Jamestown Narratives: Eyewitness Accounts of the Virginia Colony: The First Decade: 1607-1617, edited with Commentary by Edward Wright Haile.
1491: New Revelations of the America's Before Columbus, by Charles C. Mann.
---
---
Pocahantas Biography
Matoaka
Lady Rebecca Rolfe
1595?-1617
Pocahontas was born about 1595 in Wicomico, Virginia. She was one of about one hundred children born to the powerful Chief Powhatan. Her tribal name was Matoaka. Matoaka means "Little Snow Feather." Pocahontas was her nickname and means "playful one". She was said to be a favorite of her father and he used her as an ambassador as she grew older.
When Pocahontas was 12 years old, men came to Virginia from England. Other men had come by ships to Virginia before Pocahontas was born, but they did not stay. This time the men from England came to stay in Virginia. Pocahontas had never seen men with light skin and hairy faces before. They had many strange tools and frightening weapons. Pocahontas was curious about the visitors.
Pocahontas was known for her courage and kindness. She was an ambassador to the colonists. She took food to the colonists, carried messages to them, and traded with them. She taught the Indians many things about the colonists and taught the colonists many things about the Indians. She wanted the colonists and the Indians to be friends.
John Smith was the leader of the colonists. He told a legend that Pocahontas saved his life. Chief Powhatan made him a friend. Chief Powhatan sent Pocahontas to deliver food to John Smith when the colonists had nothing to eat. John Smith was wounded and sailed back to England. The colonists told Pocahontas and Powhatan that John Smith was dead.
With John Smith gone, the Indians and settles began to fight. Pocahontas was captured by the colonists. They wanted Powhatan to give them food in exchange for his favorite daughter. After Powhatan sent the food, refused to return Pocahontas. The colonists asked for more food instead.
Pocahontas was treated kindly and lived with a preacher in Jamestown. She was baptized and took the name Rebecca. Then Pocahontas married a colonist named John Rolfe. They had a son named Thomas.
John Rolfe and Pocahontas were invited to go to England. In England, Pocahontas was called Lady Rebecca. She was entertained at the royal court of King James I. She was greatly admired and made many friends in England.
Pocahontas wanted to return to Virginia. After they got on the ship to return, Pocahontas got sick. She had no resistance to European diseases. Pocahontas became so sick they had to turn the ship around and return to England. Pocahontas died and was buried in England with great honors.
John Rolfe returned to Virginia and became a prosperous tobacco farmer. Thomas stayed with relatives in England where he went to school. He returned to Virginia when he was grown up. John Rolfe died before Thomas returned to Virginia. Thomas claimed his parents' lands and became a government official in Virginia.
Many pictures of Pocohontas have been made. Pocahontas appears on the official seal of Henrico County in Virginia. There are roads, communities, and bridges named for Pocahontas. There are bronze statues of her at Jamestown, the place where she first met John Smith, and in Gloucester, Virgnia, where she grew up and lived with her father.
---
---
Timeline for Pocahontas 1595-1617
1595 - Pocahontas was born at Wicomico, in Gloucester County, Virginia. Her tribal name was Matoaca which means "Little Snow Feather." Her father called her Pocahontas, which means "playful one." Pocahontas was the youngest of more than 100 children born to the powerful Chief Powhatan.
1607 - Englishmen arrived at Jamestown. John Smith led an expedition from the fort and met Chief Powhatan and Pocahontas. Pocahontas and John Smith became friends. Pocantas took food to the colonists during a difficult winter. She traded with the colonists. She carried news between the Powhatan Nation and the colonists at Jamestown.
1610 - Pocahontas was married to Kocoum. She went to live with the Potomac tribe.
1612 - Pocahontas was captured by the colonists and held for ransom. She was treated kindly, but was not allowed to return to her father until after she was baptized.
1613 - Pocahontas was given instruction in Christianity by Alexander Whitaker. Pocahontas was baptized in the little church in Henricus. Pocahontas took the Christian name Rebecca.
1614 - Pocahontas was married on April 5 to John Rolfe in Henricus. Her father did not attend the wedding, but sent representatives from the tribe.
1615 - Pocahontas gave birth to Thomas Rolfe.
1616 - Pocahontas traveled to England to help promote the Virginia colony. She was received like royalty and was entertained at the court of King James I.
1617 - Pocahontas got sick on the voyage back to Virginia. She died on March 21 in England. She was buried at St. Georges Church in Gravesend, UK.
Pocahontas was baptized in 1613.
---
---
Color Pocohantas
---
More Pocahontas Activities
1. Pocahontas was twelve when her father's men captured John Smith and brought him to her father's longhouse. Draw a picture showing the meeting of Pocahontas and John Smith.
2. Pocahontas had a short, eventful life. Write a report on the life of Pocahontas. Your report should describe the important events in Pocahontas' life.
3. Pocahontas did not speak English when she met the colonists from England. The colonists did not speak Powhatan. Pocahontas and John Smith taught each other their languages. Make a list of the first 20 words that Pocahontas and John Smith had to learn from each other.
4. Pocahontas went to England to help raise support for the Jamestown Colony. In England, Pocahontas was called Lady Rebecca. Make a list of five things that Lady Rebecca did in England that she couldn't do in Virginia.
---
Page created August 4, 2001. Anne Pemberton. Updated Fri, Jan 27, 2012. AP.