Famous Americans
Thomas "Stonewall" Jackson
1824- 1863
Summary
...
Video
...
Color Page
...
Pictures
...
Netlinks
... Timeline ...
Biography
... Projects
Stonewall Jackson was born in Clarksburg, Virginia which is now in West Virginia.
He went to West Point and became a soldier.
He was a good soldier and won many victories.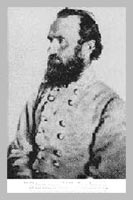 He was a hero in the Mexican War.
Stonewall Jackson joined the Confederate Army.
He won many victories.
Stonewall Jackson was accidentally shot by his own troops.
He died of his wounds at Fredericksburg.
---
Netlinks for Stonewall Jackson
Civil War History Biography: Stonewall Jackson
---
Page created July 3, 2003. Anne Pemberton. Updated Sat, Feb 11, 2012. AP.